Maps and Travel
/sites/d7.unicam.it.international/files/campus_madonna%20delle%20carceri_polo_0.pdfHOW TO REACH US
Camerino is located in Marche Region that  lies on the eastern side of central Italy, between the Adriatic Sea and the high Apennine mountains.
Camerino is 670m s.l. Winters can be cold and snowy with temperature between +10°C/-5° C.
 Map of the Scientific Divisions and other services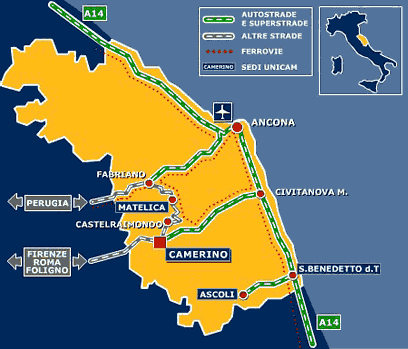 BY PLANE
1) from ANCONA FALCONARA AIRPORT:
•by taxi (approx. 130 Euro for up  to seven passengers, 1,15  hour).
•by train from Ancona or Falconara Marittima train station (about 15 Euro). Take the train to Fabriano and once there the connection to Castelraimondo/Camerino. The railway station 'Camerino-Castelraimondo' is on a branch line connected to the station of Fabriano that is located on the main Rome to Ancona line. A regular bus service scheduled for each arrival connects 'Camerino-Castelraimondo' station with the centre of Camerino-(1 Euro, about 10 minutes
2)from ROME FIUMICINO AIRPORT
by train
Take the express train from the Airport station to Roma Termini station (30 minutes).
Take the train for Ancona to either Foligno station (1 1/2 hours) or Fabriano station (2 hours).
From Foligno station take a taxi to Camerino (45 minutes, 90 Euro for up to seven passengers) or a bus (departure hours 15.10 and 17,30 from Mondays to Saturdays www.contram.it)
From Fabriano station, take the local train for Civitanova Marche to Castelraimondo-Camerino (30 minutes).
Once there buses are scheduled for each arrival(1 Euro, about 10 minutes
To help you in planning your train schedule, please visit the website
 http://www.trenitalia.com/
Important information when travelling by train in Italy.
You MUST stamp your ticket on the platform before boarding the train
On Eurostar trains you should make a seat reservation before boarding the train.
To help you in planning your train schedule, please visit the website
 http://www.trenitalia.com/
BY BUS
From Rome: Coaches depart daily except Sunday from Rome from the Tiburtina Bus Station located just outside Tiburtina Railway Station at 12.00 am. They also stop at 12.10 am in Via Palestro close to Rome Termini Railway Station. They arrive in Camerino at 4pm. (20€ ca.)
www.contram.it
BY CAR
Those travelling on the A14 motorway should take the 'Macerata-Civitanova Marche' exit and proceed west along the divided highway until the Camerino exit. Then drive for about 10Km to the top of the hill where Camerino is located.
Those travelling to the west of the Apennines mountains should travel as far as Foligno and then take the road SS77 which leads after about 60Km to the Camerino turn off. From there, continue for about 10Km to the top of the hill on which Camerino is situated.